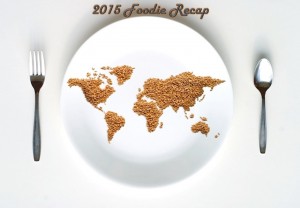 What other highlight to the ending year than remembering the best tastes best moments of food I had past year on this very cold San Francisco day. Eat, live and smile my dear friends.
The real stuff:
-Stuffed mussles (Midye dolma), Mastic filled cookies (sakizli kurabiye), Aegean red mullet (barbun baligi), Dalyan, Cesme.
-Grapeleave dolmas (Yaprak sarmasi), okra (bamya), zucchini cakes (mucver), family prepared, Izmir.
-Frozen cigborek, Mongolian desert.
The sentimental:
-Urlice Vineyards, chef Osman Sezener of Pizza Venedik, Urla, Izmir. Izmir home boy Osman Sezener of famous Pizza venedik educated in Italy brought gourmet food using our Aegean greens, fruits in the most serene place in Aegean among the vineyards and good wine from Urla. Amazing mint and cherry ice cream to top the very special night hosted by my TUSIAD friends.
-Antico Trattoria in Treviso, Italy. This trattoria which is the back up for the nights Don Fernando's is closed is tucked away behind the Duomo, with their huge wine list and unpretentious setting but has been around close to a hundred years. It feels like home everytime I enter the door and know that it will be a feast.
-La Mar by Gaston Acurio, chef Diego Oka, Mandarin Oriental, Miami Beach. Reminder of the fabulous Peruvian feasts and art of the potato making; this time on the water in beautiful Miami Beach.
Top of the ladder!
-Michael Minna Mediterranean Test Kitchen, San Francisco, California. Amazing tastes from the Egyptian chef took me from Cairo's Naguib Mahfouz coffee to Aleppo's Christian quarter down to Beirut's Sultan Ibrahim restaurant, up to home in Izmir fishing villages. It certainly was the most amazing journey of the year. I ranked it above French Laundry because every moment was pieces of my life in the mediterenean sea, so personal.
-French Laundry, chef Thomas Keller, Yontville, California. The most amazing service ever, from the welcome down to the goodbye cookies alongside the satin ribboned menus as mementos. Service was amazing with wait staff never looking in your eyes, never coming across you anywhere in the hallways of the tiny cottage. Service blew me away so much that I cant remember what I ate except that every piece of it was phenomenol. First time I realized the difference between one and three star Michelins…
-Oliver Glowig restaurant, chef Oliver Glowig, the Aldrovandi, Villa Borghese Hotel, Rome, Italy. The truffle risotto made me an addict and so far I tried hundreds of risottos in many countries in vain just to find that taste again. I felt like five years old stuck in a new year's celebration as the desert followed a chef's complimentary sweets which were around twenty different pieces followed by a full on Japanese tea ceremony followed on goodbye sweets that I ended up eating in Tuscany for a good few days. It felt like a holiday celebration all over.
-Santé at The Fairmont Sonoma Mission Inn & Spa, Sonoma, California. A small unexpected oasis in downtown Sonoma grounds with amazing food that kept on wow'ing straight through the night. They do deserve their Michelin star back.
-Twist by Pierre Gagnaire, Mandarin Oriental, Las Vegas. Highly pretentious, never to disappoint, exceptional service and exceptional wine menu to serve the level of the guests we had. Amazing pairing was the most significant dinner conversation as technology met with New York Fashion world and decided to make history.
Exceptional:
-Bouchon by Thomas Keller, chef de cuisine Michael Sandoval, Yontville, California. Truffle fries and chocolate, and no more!
-Joseph's, Joseph Wrede, Santa Fe. Southern food with a very modern twist; out of ordinary sophistication for the pink desert.
-Gramercy Tavern, New York City. Special setting, always exceptional service and food.
-Redd Wood by Chef Richard Reddington, Yontville, California. A breakfast can be so delightful and surprising, with the Peruvian potatoes and arugula! A small heaven in heart of Napa to grab a high quality beautiful bite.
Best conversation and ambiance:
-Union Square Café, New York City. Last night of the famous Union café before they moved to new location hosted me for the most amazing feast. A feast happens when food is exceptional, wine served is perfect hundred point Pinots from France, company happens to be writer Jay McInerney of Big City, Bright Lights; and my conversation mate who sat near me turns out to be Patti Hearst's sister and Rudolph Hearst's daughter Anne Hearst. The most interesting combination of people and food made this for me one of the most memorable nights in New York City.
-Procacci shop and tasting room, Florence, Italy. More truffles, this time in chocolates, after dead tired of shopping in Florence; gossiping with my decades old friends. Never so happy to be in Italy.
-The beauty shop restaurant, Memphis, Tennessee. Sitting in this hip cool, a la jetsons deisgned hair salon, eating where Priscilla Presley got her hair done, so unexpected in the deep south as part of my renuinon with my American sister and her daughters from North east was so surreal and very cool!
-Itta bena at BB King's restaurant, Memphis, Tennessee. True blues on beale street in Memphis starts with BB king's place–only until you discover the high end Itta Bena upstairs hiding out with real good food, and no you don't have to eat fried chicken in Memphis after all!
-Secreto lounge, Santa Fe, New Mexico. Endless creative liquor menu paired with western munchies fit in the coldness of the new mexico desert.
Very good:
-Blue Hill, New York City.
-Morimoto restaurant, Chef Masaharu Morimoto, Napa
-Asiate, chef Angie Berry, Mandarin Oriental, New York City.
-Coyote Café, Santa Fe, New Mexico
-Bar Boulud, by Daniel Boulud, Mandarin Oriental, London, UK
-Bouchon, chef Thomas Keller, the Venetian, Las Vegas -Mint leaf, London, UK
-Bistro Jeanty, Yontville, California
-Ozumo restaurant, San Francisco
-La Mar Cebicheria Peruana by Gaston Acurio, chef Victoriana Gomez, San Francisco
-Solbar, Chef Brandon Sharp at Solage, Calistoga, California
The comfort food:
-Babadji, London, UK. They had sezen aksu music, sucuklu pide, lufer fish, yeni raki in proper glasses, Turkish speaking brilliant waiters with a very modern and cool blue décor. I felt exactly how I was supposed to!!! A person born in Izmir but lived in Istanbul seeking Aegean restaurants always; came to London from San Francisco and wants to feel like she is a bit closer to home. Serefe to any restaurant who can make you feel so special!!!!
-Shakefoundation, santa fe. Best burger ever, soft and real in the middle of a park right down from art galleries. New hip side of Santa Fe carries this place so well.
-Umami burger, San Francisco. Food I want to eat every day. Not only because its in the hood, but truffle fries goes well with the burger which has a sunny side up egg inside.
Might the new year 2016 bring yet other things on top of my daily ration of feta cheese, tomatoes and crakers:)